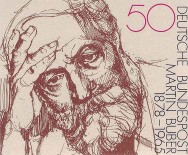 Martin Buber was a Jewish philosopher that wrote a very famous poetic psychology book titled:
Ich und Du (I and Thou)
. It's a short book, around 150 pages that was published in 1923. It's a difficult read, especially since its German poetry translated into English, and is a difficult philosophical theology treatise that is comparable to Jonathan Edwards'
Nature of True Virtue
.
I first learned about Martin Buber in Paul Tillich's book Theology of Culture, where Tillich devotes a chapter to Buber's I and Thou. I'd actually recommend reading Tillich's chapter on Buber before reading Buber's I and Thou, or some sort of summary (like this one at stanford.)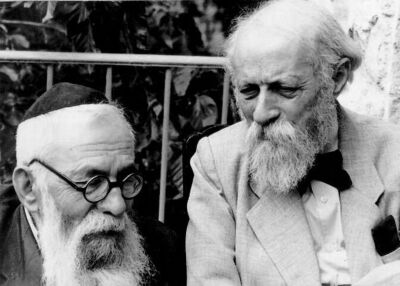 (Martin Buber and Rabbi Binyamin)

Summary of I And Thou
Buber defines two primitive words: I-Thou and I-It. (And before I say more than I know, I recommend reading this work before repeating anything I say about Buber, as the preface of my edition warns, "it must be read more than once."). I-Thou is the primitive where knowledge of existence dwells, but there is constant danger of falling into the I-It primitive. It may be helpful to think of these primitives as single words rather than relationships.
The I-Thou is awareness of other beings, not by any universal Platonic form, or summation of attributes, but by dialectical relation with that very Thou entity. In knowing Thou is more than the summation of all It's attributes, but it is the very Thou. In knowing Thou, then we arrive at knowledge of ourselves defined in the I-Thou reciprocal relationship with Thou, because I only understand my own existence in direct relationship with that Thou as a I-Thou primitive correlation. Once the Thou is reduced to a universal, I am also dissolved into those same universals, and likewise, when Thou is reduced to It's attributes, then I am also reduce to non-existence in the I-It. So the true knowledge of being lies in only the I-Thou.
The Eternal Thou
The Eternal Thou is similar to Jonathan Edwards' Being In General (see his treatise: The Nature of True Virtue). The Eternal Thou is a monotheistic being from which all Thous are derived, but no one Thou is the Eternal Thou.
The plurality of I and Thou
Paul Tillich's discussion of I-Thou draws out the plurality of the Thou, because to know a Thou means to know all other Thou's in relation to that Thou, yet without falling into the bland universal It. So at the same time, I not only know myself by knowing the Thou of my I-Thou relationship. I know all others of my own I (think community), in relationship to all other Thous. So I believe this is where the Trinity must be inserted, here to make sense of the Eternal Thou, and this is where an individual Christian does not have a meaningful relationship with the Trinity apart from the collective church body of Christians.
Conclusion
Paul Tillich's Theology of Culture has a very useful analogy for explaining the two primary ways that philosophy engages God: meeting a stranger (i.e. Deism or Atheism) and overcoming estrangement (i.e. Pantheism or Materialism), which I learned about through Michael Horton's A Christian Faith: A Systematic Theology for Pilgrims on the Way. Buber's I and Thou provides a system of knowledge that doesn't collapse into either extreme of Deism or Pantheism.
By: Wyatt Houtz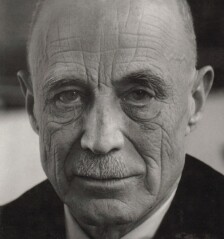 It's almost impossible to engage in a conversation about culture without someone mentioning H. Richard Niehbur's
Christ & Culture
. I learned about Niehbur through D.A. Carson's magisterial
Christ & Culture: Revisited
, which I
unfortunately read before
I had actually read Niebuhr's book, which was a great detriment to myself. Al Mohler
recently invoked the infamous quote, summarizing Liberal Protestantism
after Rob Bell's stinky
Love Wins
controversy:
H. Richard Niebuhr famously once distilled liberal theology into this sentence: "A God without wrath brought men without sin into a kingdom without judgment through the ministrations of a Christ without a cross." ~ Al Mohler
And again, Al Mohler lament's in a
discussion on Original Sin
about where have all the great theological commentators gone, such as Paul Tillich, and H. Richard Niebuhr (and I would add Francis Schaeffer.)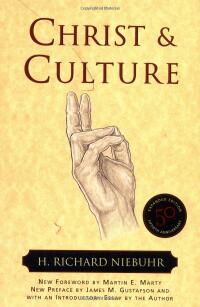 It's amazing how often H. Richard Niebuhr's book, "Christ & Culture", is still discussed today. It was published in 1955, I recently found and read a reprint of Niebuhr's classic that celebrates the book's half-century milestone that includes a foreword by Martin E. Marty, and a preface by James M. Gustafson and a very helpful summary introductory essay by H. Richard Niebuhr. Niebuhr's essay gave a great context to the book by listing examples of famous theologians that fit each of his five categories of Christ & Culture. Gustafson's short history book was more nostalgic than clarifying, although it added the minimum details to read the book. Unfortunately, the was not much biographical information on H. Richard Niebuhr in this book, which was disappointing since this is my first engagement with Niebuhr. All I took away from the prefaces was that Reinhold Niebuhr was Richard's older brother, and that Richard had a son who also published theology books, but I don't know of any of Richard's son's writings, and that Reinhold has produced a large amount of books. However, one anecdote from the introduction was a list of George Marsden quotes that gave a negative evaluation of Niebuhr's classic, which the editor was more offended by than addressed in anyway. (I love Marsden, especially his biography Jonathan Edwards: A Life, and know that he wrote many other church history books, especially on fundamentalism, so I think Marsden's critiques are worth considering.)
I turned to The Google for a Niebuhr biography, and was disappointed by the information on the famous MMORPG commonly known as Wikipedia where I only learned that his first name is Helmut and some history about the United Church of Christ. However, I was able to find H.R. Niebuhr's obituary from the New York Times hosted at his alma-matter, Elmhurst College (Read It Here).
The first thing to know about Christ & Culture, is this book is foremost considered a book on ethics. "Christian Ethics" was not my first thought when I categorized this book, but "ethics" is the first word everyone says when they see me holding this Niebuhr volume. Maybe its because its a seminary class that young minds are first dragged into the mess of Christian Ethics. When I think of Ethics, I think of Jonathan Edward's magisterial Ethical Writings (Yale Volume 8) containing The Nature of True Virtue and The Ends For Which God Created The World, etc. And when I think of Christ & Culture I typically think of Luther's Two Kingdoms or the recent fad topic of Federal Vision and the perennial topic of Church and State.
At last, the content review! As you may know already, Christ & Culture consists of five categories of the ways that Christians have historically understood culture in relation to Christianity: Christ Against Culture, Christ of Culture, Christ Above Culture, Christ And Culture In Paradox, Christ Transforming Culture. In short, each of theses views have things to embrace and elements to avoid.
Christ Against Culture
Christ Against Culture basically is the view that culture is all bad and needs to be annihilated. The pinnacle example via Niebuhr was Tertullian, and his rejection of culture. Although Tertullian is analyzed in depth, to be frank, this Chapter read like one big rant against Leo Tolstoy. Yes, Tolstoy was an Anabaptist, and Yes, everyone hates Anabaptists. That's what the reformation was actually about -- hating Anabaptists. But, Tolstoy wrote two amazing novels: War and Peace and Anna Karenina. And, not everyone can be a "Dostoevsky" and write a "Brothers Karamazov." Even if Niebuhr is right about Tolstoy, it's still good to separate Tolstoy out from the disaster of the Radical Reformation. Niebuhr makes great analysis of this perspective, and the contradiction of being a literary master and someone who rejects culture.
Christ Of Culture
This is the great chapter about John Locke's "The Reasonableness of Christianity, Friedrich Schleiermacher's "The Christian Faith" and the works of Albrecht Ritschl. The irony of this chapter is that it's basically the same as Christ Against Culture but it's arch-enemy. This is where the modern-scientist, like Marcion, comes and rips out the supernatural and unfashionable parts of the New Testament, in the same way as Thomas Jefferson did to his bible.
Christ Above Culture
Above, as in Idealism. When I say "idealism", don't think Locke, but rather think Doctor Angelicus Thomas of Aquinas. If Christianity were to perfect culture, no one could do it better than Aquinas.
Christ And Culture In Paradox
Here lies Martin Luther's doctrine of the "Two Kingdoms". R.I.P.
Christ Transforming Culture
Augustine of Hippo, and John Calvin too are lumped into this category, and as most of Church History.
Conclusion
This book is a recorded lecture, so it doesn't have the depth as a theology book normally has that was intended primarily for print. However, its still ecellent, in the same way as Abraham Kuyper's Lectures on Calvinism were, despite being first lectures and second a theology book. People will talk about this book for another fifty years, and I hope they talk about it much more than the Two Kingdoms.
I recommend reading my review of D.A. Carson's Christ & Culture: Revisited..
By: Wyatt Houtz